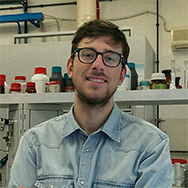 Marco was born in Bassano del Grappa, Italy in 1987. He studied molecular electrocatalysis under the supervision of prof. Abdirisak Isse and prof. Armando Gennaro at the University of Padova. In 2015, he moved to Carnegie Mellon University, PA, USA, to the group of Kris Matyaszewski, to apply electrochemical tools to solve challenges in polymer chemsitry. 
In 2017 Marco was visiting scholar under the supervision of Prof. Edmondo Benetti at ETH, Zurich, to study polymerization and coating on surfaces. In 2018 he visited Prof. Rinaldo Poli at CNR, Toulose, to learn more about organometallic catalysis.
From 2019 to 2021 Marco worked in the largest coating research laboratories in the world, at PPG Coatings Innovation Center in Allison Park, PA, USA.
In 2021 he joined University of Padova as assistant professor (rtdB).
2022 STARS Grant – Seal of Excellence
2020 R&D 100 Award – Mechanical/Materials category – PPG Clean-Surface TechnologyTM (with PPG research team)
2018 PMSE "Future Faculty Award" – Received at the 256th ACS National Meeting
2017 Ph.D. Prize "Oronzio and Niccolò De Nora Foundation" – Division of Electrochemistry of the Italian Chemical Society
2015 "Springer" Poster Prize – Division of Electrochemistry of the Italian Chemical Society
2014 Photoanalytica Master Thesis Award – Division of Electrochemistry of the Italian Chemical Society
Education and Research
PhD: University of Padova (Advisors: A. A. Isse and A. Gennaro)

Post Doc: Carnegie Mellon University (Advisor: K. Matyjaszewski)

Industry: PPG Coating Innovation Center (Advisors: S. Donaldson and D. Connor)
Contacts
University of Padova
Department of Chemical Sciences
Via Marzolo, 1
35131 Padova (Italy)
+39 049 827 5230
marco.fantin at unipd.it